After a massively delayed journey at the hands of Southern Rail and their farcical replacement bus service, I finally made it back home last night from my first Conquest event in Shoreham-by-Sea on the South Coast.
They were a very welcoming bunch and it was lovely to catch up with a few game and comic devs as well.
Most of the day was spent either introducing new players to the Bots, or showing the new 'Stak UP' game variation (2-player mode introduced in the new Red Set, where you raise up your Staks from nothing).
 Me vs a very large Stak!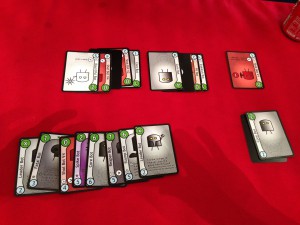 Stak-UP
I also managed to finally sneak in a game of Oligarchy with its vivid designer Gary (a poignantly stark game theme with some clever faction mechanics) and got a look at the new Final Fantasy cards (judgement reserved until I get a chance to play, but the card stock is lovely!!).
At the end of the day we had the final for the Stak Bots tournament.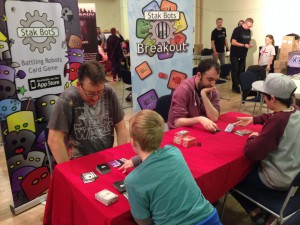 Highlights included:
– A shockingly big power 20 Greedy Bot that tore through most of a Stak
– An effect chain of various Shot cards that was about 10 effects long
– Tranq Bot repeatedly getting itself killed
The final playoff saw Elliott Weights take on Alex Bowen-Rodriguez for the title. After an intense battle, the end of the game looked like this:
Both cards were revealed simultaneously after an attack, with Alex (on the right) down to his very last card. Unfortunately for Elliott that last card was the horrifically damaging Spike Shot Bot and Alex had priority after attacking, so was able to eliminate Elliott's last two cards before his Shot had a chance to fire! Incredibly close game!
The runners-up left with a copy of the new Red Set each, while our new champion Alex got a full set of all the Stak Bots games, plus a highly exclusive Champion Bot card, making him the 2nd ever player to own one! Well done Alex! (winning deck composition at the bottom of the page…)
Thanks to Gambit Gary and the rest of the team for putting on a great event and we'll see you again next year for another great Conquest!
——————————————————————–
Alex's winning deck was made up of the following:
Rank 1:
Avalanche x 3, Stomp Leader x 2, Shot Bot x 5
Rank 2:
Shark Bot x 4, Shot Bot x 2, Tank Bot x 4
Rank 3:
Fatal Bot x 5, Shot Bot x 3, Tank Bot x 2
Rank 4:
Stomp Bot x 4, Shot Bot x 2, Tank Bot x 2, Twice Bot x 2
Rank 5:
Stomp Bot x 4, Spike Shot x 3, Cloudy x 2, Ninja x 1
Rank 6:
Stomp Bot x 3, Spike Shot x 3, Bash Bot x 2, Cloudy x 2