We're back and slightly rested having survived another brilliant UK Games Expo!
Having the event stretched over 3 days meant that we finally had time to actually get round some of the other stands, play some new games and catch-up with people!
We had a great time at the Stak Bots stand and had some really interesting and chaotic games. We gave the upcoming expansion deck a bit of an airing and I reaffirmed my love for Spike Shot Bot. We also had some interesting exchanges where zero powered cards dominated the battlefield against hordes of Elephant Bots, causing powerful entry effect cards to be wasted getting rid of the tiny Bots before any damaging progress could be made!
It was lovely to have so many returning players from previous events drop by for a game, some even wearing their Stak Bots t-shirts! Amazing!
We also had the world champion drop by to wreck our robots!
On the first night we got to check out the overwhelming might of the board games library!
First up was Incan Gold; luckily the guy sat next to us knew how to play and explained the rules in seconds, so we piled straight in to this fun little game. On one of the later rounds I 'accidentally' dealt Mats two exit cards instead of the usual one entry and one exit, slightly limiting his tactical options. Ridiculously, he didn't even notice as he decided to flee every single time and actually won!
By the time we were finished the library had sadly closed, so we bust out the Bots to experiment with some new variations.
In the first game we decided to mix some modes up a bit and aim for high complexity.
The setup was:
– 2x face-down Staks each
– 2x face-up x-ray Staks each
– Draw 2 cards each turn
– Feed the scrapheap 2 each turn
– Reactive play
– 2 x attackers using any Stak
Having some Staks face-up and other face-down led to a nice mix of planned combos and blind luck!
After this we experimented with a new way of drafting cards ready for an x-ray build-up game.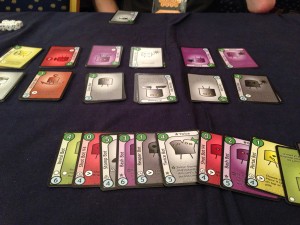 For this draft, we lined up the cards opposite each other in their corresponding ranks. Each player took a turn to choose the top face-up card of one of the 6 ranks, and the other player had to choose the card of the same rank. This gave you some influence over your opponent's deck content; for example, having forced a couple of Nano Bots into their hand, I tried to avoid picking high-power cards for myself to negate their Nano ability.
We then took turns to lay one card at a time face-up, until we each had a Stak of 9 deep with 3 in hand. We rolled for who took the first turn.
This mode was great fun, with careful alignment and future planning in the build-up stage being completely ruined by a cunningly timed Levi Bot played from hand.
We finished up the evening with a multitude of tea at the hotel and a few more games of Incan Gold. Knowing we had a full day of gaming on the Saturday, we turned in nice and early about 2am…. erm… oops.
After feasting on the continental breakfast at the hotel (no lunch needed! Win!), we had another full day of demoing, followed by a proper attack on the games library.
We got through the following:
Forbidden Desert – After cleaning out standard difficulty with two players, we turned the sand up to the max and died of dehydration a couple of moves from the end. A frustratingly sudden ending to what was quite a fun game.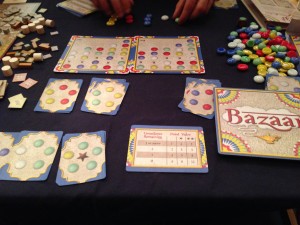 Bazaar – a little gem of a game (sorry!) This incredibly clever little conversion game frazzled our brains; we thought we'd got the hang of it after the first time through, but the second play seemed somehow more taxing.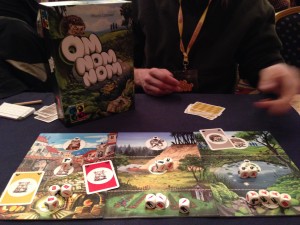 Om nom nom – not sure this worked properly with just two players (and a pretend 3rd player taking random moves which thrashed us!), but the dice were awesome!
Lost Cities board game – on the first play-through I hadn't really listened to the rules and negated several key concepts such as not playing high cards early on, avoiding getting negative points and actually putting the giant guy on the board! Never has this game seen such a ridiculous point imbalance! The second time through was more balanced thankfully.
Tsuro – being too tired at this point to tackle anything resembling an instruction booklet, Tsuro was a perfect end of the evening game. We wiggled our pieces around paths until everything got a bit blurry and it was definitely time to sleep!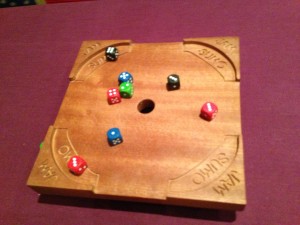 Jam / Sumo – our lovely stand neighbour Gavin had these beautiful hand-crafted wooden games which I finally got to play on the last day. A fun dexterous dice-flicking game with a couple of ways to play. Brilliant! A little tip though: don't take on the guy who has been sitting playing it solidly for several days, it won't end well.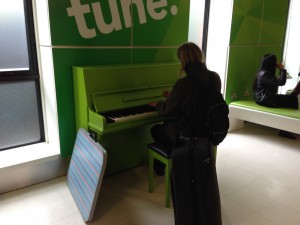 We eventually had to step back out into the sunlight and escape the timeless world of the UKGE, dragging our bags accompanied by Chris of the brilliant UK Gaming Media Network (good luck with the endless expo editing by the way!). Mats entertained the NEC with a quick bit of Einaudi before we hopped on the train and squeezed in one last game – the financially destructive but ever-enticing MTG, using a duel deck I picked up in the closing minutes of the event.
As ever a great event, thank-you to the organisers and everyone who attended and of course particular thanks to our players!
(: ]=